SELF-HELP ALLERGIC
RHINITIS GUIDE
No one has time to suffer from allergies. Follow Doctor Bubak's 3 steps and you will be on your way to finding relief from your allergies!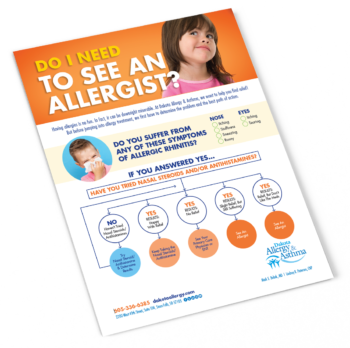 DO I NEED TO SEE
AN ALLERGIST?
Do you suffer from Allergic Rhinitis? This road map will lead you down the right path to find relief from your allergy symptoms.
THE TRUTH ABOUT ALLERGY
SHOTS
Find out about this effective, long-lasting allergy treatment directly from board-certified allergist Dr. Bubak
ADULT ALLERGIES VS CHILDHOOD ALLERGIES
We aren't born with allergies. They develop as we grow up. Download this resource to learn more!
ALL YOU NEED TO
KNOW ABOUT ATOPIC
DERMATITIS
This resource on Atopic Dermatitis provides helpful tips on how to manage this often frustrating condition.
MANAGE EOSINOPHILIC ESOPHAGITIS
A Six Food Family Avoidance Diet for Eosinophilic Esophagitis, provides complete meal plans to eliminate potential allergens.