SELF-HELP ALLERGIC
RHINITIS GUIDE
No one has time to suffer from allergies. Follow Doctor Bubak's 3 steps and you will be on your way to finding relief from your allergies!
DO I NEED TO SEE
AN ALLERGIST?
Do you suffer from Allergic Rhinitis? This road map will lead you down the right path to find relief from your allergy symptoms.
THE TRUTH ABOUT ALLERGY SHOTS
Find out about this effective, long-lasting allergy treatment directly from board-certified allergist Dr. Bubak
 ADULT ALLERGIES VS CHILDHOOD ALLERGIES
We aren't born with allergies. They develop as we grow up. Download this resource to learn more!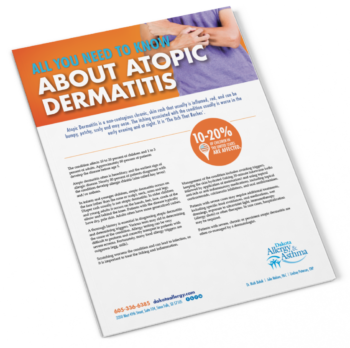 ALL YOU NEED TO KNOW ABOUT ATOPIC DERMATITIS
This resource on Atopic Dermatitis provides helpful tips on how to manage this often frustrating condition.
MANAGE EOSINOPHILIC
ESOPHAGITIS
A Six Food Family Avoidance Diet for Eosinophilic Esophagitis, provides complete meal plans to eliminate potential allergens.
ASTHMA SYMPTOMS AND TREATMENT
GUIDE
Become more familiar with your asthma and its treatment because the more you know, the better you can manage it.
WHEN TO GET
HELP FOR
YOUR ASTHMA
Use this resource to help determine when you should get follow up care for your asthma and follow-up with your physician.
Recording your peak flow over time helps you detect changes in your airway that can help you intervene before your experience an asthma attack.
METERED DOSE INHALER INSTRUCTIONS
Follow these guidelines to help you use your MDI properly to get the most benefit from your medication.
ACTIVITY
BOOK
This activity book is filled with fun puzzles and games
as well as coloring pages. This is a fun way for kids to get acquainted with allergies and asthma.
ALLERGY AWARENESS
TAGS
Use these allergy awareness tags to note which allergens are contained in your snacks or to specify specially made snacks that don't include specific allergens.
DECORATIVE CUPCAKE
WRAPPERS/FLAGS
These wrappers will give a decorative touch to cupcakes. The matching flags are customizable to call out ingredients that others could be allergic to.
INHALER POUCH
PROJECT
This fun and easy craft project is perfect for you or your kids, Use them to keep track of inhalers or to keep a medication bottle safe.
No sewing required!