YOUR VISIT – WHAT TO EXPECT
At Dakota Allergy & Asthma, it is our priority to ensure our patients are comfortable with their care. If you are a new patient, we ask that you complete the Patient Questionnaire and New Patient Information (and any others the receptionist directs you to). Be sure to ALSO complete the specific form if your problem is Food Allergy, Hives, or Cough. All forms are found in the New Patient Forms to the right. It's important we learn as much as we can about you and your allergy or asthma symptoms.
Your visit will start by seeing our nurse who obtains further information along with your vital signs including blood pressure, pulse, height, respiratory rate, peak flow, etc. Dr. Bubak, or Mrs. Peterson, CNP will then meet with you to obtain a complete medical history and examine you. They are especially interested in your allergy or asthma symptoms, exposures, the timing of your problems, and the effect of past treatments. The allergist also looks at how your other medical conditions might relate. With this information, you and your allergist decide if further testing is needed to clarify what you are allergic to, how well your lungs are functioning, or if other problems are present. Examples of further testing could include allergy tests, breathing tests, CAT scans, X-rays, or blood tests.
SUMMARY VISIT:
After your allergy testing, the visit will conclude with a summary visit time with your Provider to obtain your results, recommendations, and next steps towards your allergy relief.
A follow up appointment may be required. If you'd like, feel free to bring other family members involved in your care to this appointment. Together, you can learn more about your particular type of allergy and its specific treatment. We also encourage you to write down questions before you come, and bring that list with you.
ASTHMA PATIENTS: PULMONARY FUNCTION TESTING
If you think you or your child have asthma, it is likely that pulmonary function testing will be performed at your visit.  Pulmonary function tests measure how well your lungs take in and exhale air.  They also measure how well the oxygen is transported into your bloodstream, your lung volumes, the effects of medication and how irritable your bronchial tubes are.  These test results are very important for the diagnosis and treatment of asthma. Spirometry is the most common type of pulmonary function testing.
ALLERGY TESTING
An allergy test may help diagnose the cause of the allergy.
Skin tests and blood allergy tests are both an option.  However, skin tests are preferred.
Important to note: Some antihistamines can interfere with allergy skin tests for weeks. Check with Dakota Allergy & Asthma about stopping medications.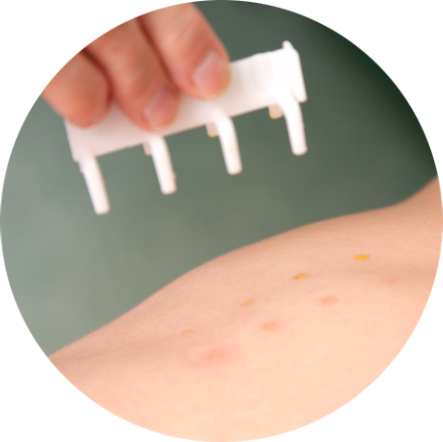 FOOD ALLERGIES
Food allergies can be a very real and often scary problem. A thorough patient history and assessment from a Dakota Allergy & Asthma provider is necessary in determining next steps.
Allergy testing may be needed before a treatment plan is established.
MEET YOUR PROVIDERS
Take a moment and meet your providers.  Mark Bubak, M.D. is a Board Certified Allergist.  His team of providers includes Lindsey Peterson, CNP and Daniel Lindquist, CNP.
THREE STEPS TO RELIEVING
YOUR ALLERGIES
SELF-HELP ALLERGIC RHINITIS GUIDE
Having allergies can be downright miserable!  However, you might find yourself asking, "Is it allergies that's causing me or my child to be sick?"  Oftentimes, the symptoms associated with allergies, the common cold, and sinus issues are similar. But before jumping into allergy treatment, you first need to determine the problem and the best path of action.  We recommend a three-step process.